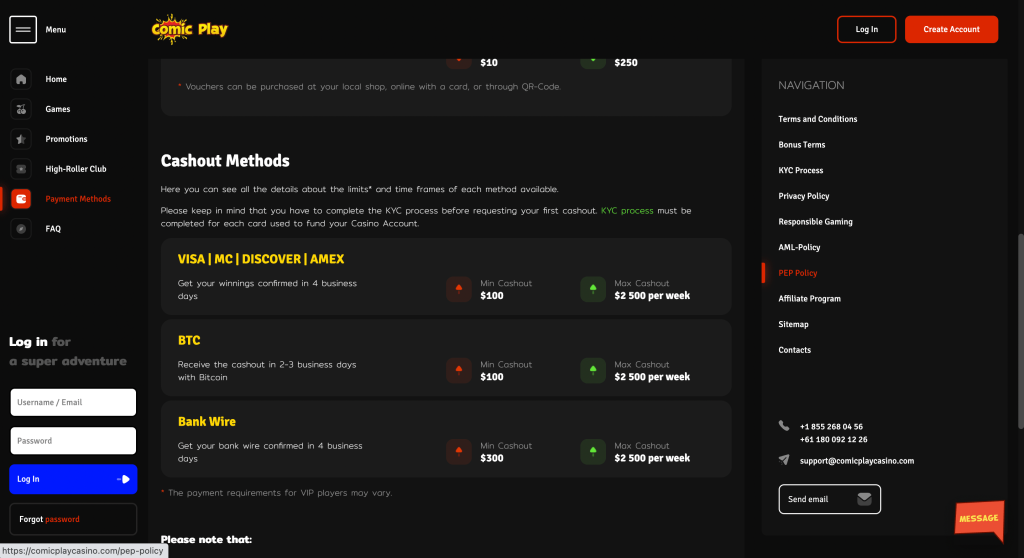 How to Use Comic Play Casino Crypto
There's no talk about modern finances without mentioning cryptocurrencies. As the data shows, they're now firmly embedded in the way of life of many people worldwide. And with good reason – using cryptocurrencies for making payments has several benefits. This is why there's a Comic Play crypto offer. A crypto wallet is all you need to use crypto at Comic Play Casino. This wallet can make seamless crypto deposits and withdrawals at Comic Play Casino.
Comic Play Casino Crypto Bonuses
There's even an exclusive bonus offer at Comic Play Casino. There are two levels of the crypto deposit bonus at this site:
300% match for the first deposit;
200% match for the second to fourth deposits.
In the end, players can get a huge giveaway bonus of up to $9,000. Remember that there's a 35x wagering requirement for both the deposit and the bonus, as per the terms and conditions of the Comic Play Bitcoin casino. There are also cash-back offers for crypto wagers at Comic Play.
Comic Play Casino Bitcoin Deposits and Withdrawals
One of the best-known cryptocurrencies is, of course, Bitcoin – the one coin with the biggest volume in the market. While the current trading price of this coin tends to be volatile, there are still many reasons to use Bitcoin over any altcoin.
Players can make both Bitcoin deposits and withdrawals at Comic Play Casino, meaning no other coins will be required to make payments. Comic Play Bitcoin min deposit limits are set at $30, while max deposits are unlimited. The minimum price for a cash out with Bitcoin is $2,500 per week. Bitcoin deposits are processed instantly, while withdrawals may take 2-3 business days.
Comic Play Casino Crypto Security
There's no need to mention the high level of security for crypto deposits and withdrawals at Comic Play Casino. First, the website uses SSL encryption, which makes it very difficult for people to get unauthorized access to it. But crypto payments are in a league of their own regarding security. No central supervisory authority controls them, and all transactions are permanently written on the Bitcoin ledger. Next-level security algorithms come into play in maintaining the security of each Bitcoin and crypto transaction in general.